Welcome to the Big Green Egg®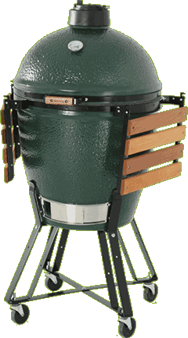 The Original American Designed Ceramic Cooker. Derived from an ancient clay cooker called a "kamado," the modern ceramic Big Green Egg has rewarded its owners with amazing results since 1974, and has earned its reputation as the World's Best Smoker and Grill.
"Green Eggs & fans – Music has Deadheads, Football has Cheeseheads, And Barbecue has Eggheads. You'll know this last group by the egg-shaped green grills they'll be standing next to, tongs in hand, looking to extol the virtues of the Big Green Egg®. Their mantra goes something like this…It's foolproof, fuel-efficient, and can cook anything from fish and steak to pizza and pie. You have to get one. Now."
- Bon Appetit Magazine
Awesome Results
The Big Green Egg is made with space-age ceramics that were developed specifically for our product. The Big Green Egg retains moisture in foods and releases flavor unequalled by other types of cooking - indoors or outdoors! Your foods will have a natural and wholesome quality; there are no metallic or chemical tastes since you use natural lump charcoal to fuel the EGG.
Easy to Start
The Big Green Egg reaches cooking temperature and is ready to use in approximately 10 minutes. Lighting the lump charcoal is quick; the inventive design of the Big Green Egg allows air flow to work like a fireplace. Use a natural fire starter or an electric lighter; no lighter fluid is needed!
Easy Termperature Control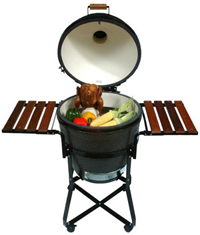 You can grill, smoke and bake at exact temperatures by adjusting the dampers. You have total control over the temperature, maintaining accuracy within a few degrees! The temperature guage gives precise temperature readings from 0 degrees to 750 degrees F.
Flexibility of Use
The Big Green Egg® has unparalleled flexibility of use…you can use it for everything from a grilled steak to a tender brisket to a freshly baked loaf of bread. Vegetables - corn, potatoes, mushrooms, onions - and even desserts are superb. You can cook an entire meal at once!
Moisture Retention
The Big Green Egg ceramics retain heat and moisture so well that foods don't dry out! Meats and other foods undergo little or no shrinkage and are tastier because the natural juices and flavors stay locked inside.
Safer to Use
The Big Green Egg is safer to use because the ceramic surface doesn't get as hot as a metal grill and the fire is enclosed in a small area.
Easy Clean Up
The Big Green Egg exterior has a lifetime glaze that maintains its good looks and easily wipes clean. Inside, the heat burns off any grease and build-up - like a self-cleaning oven.
Features of the Big Green Egg
I cannot tell you how happy my family is with the EGG! We just completed our 1st winter with the EGG and rain or snow it just cooks like there is no tomorrow! To be quite honest, I enjoy getting the EGG going in the middle of the winter and just watching the aroma drift to some of the neighbors' yards. As for my neighbors, they are still waiting for the weather to break to use their grills.
- Doug, Ronkonkoma, NY
Ready to cook in as few as 10 mintues
Ceramics retain heat with accurate temperature control and no hot spots
Practically no clean up - natural lump charcoal produces very little ash
No need to add more coals while cooking; unburned coals can be reused. One bag of charcoal can last months
Withstands temperature extremes from below 0 degrees F to 1800 degrees F; can be used all year
Surface stays cooler than metal and is safer around children
Precisly molded ceramics bonded with a green, non-toxic glazed exterior that won't fade, discolor or peel
Hinged band for easy one hand opening and closing
Non-jamming, stainless draft door with a mesh screen for your safety
Cushioned gaskets for improved insulation and seal
Heavy porcelain-coated grid for easy cleanup
5 EGG options to choose from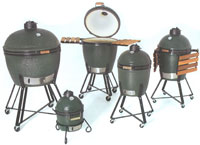 XLarge 205 lbs – 24" grid
Large 140 lbs – 18.25" grid
Medium 95 lbs – 15" grid
Small 65 lbs – 13" grid
Mini 30 lbs – 9.5" grid
The Big Green Egg® is the most unique BBQ product on the market today, with more smoker and grill capabilities than all other conventional cookers combined. And with five varied sizes available, there is a Big Green Egg to fit any need!
"If you can only own one grill in your lifetime—get the Big Green Egg®" CNBC - TV